To support its continued growth, CSM Group has welcomed eight teammates that will support the operations and execution side of the business.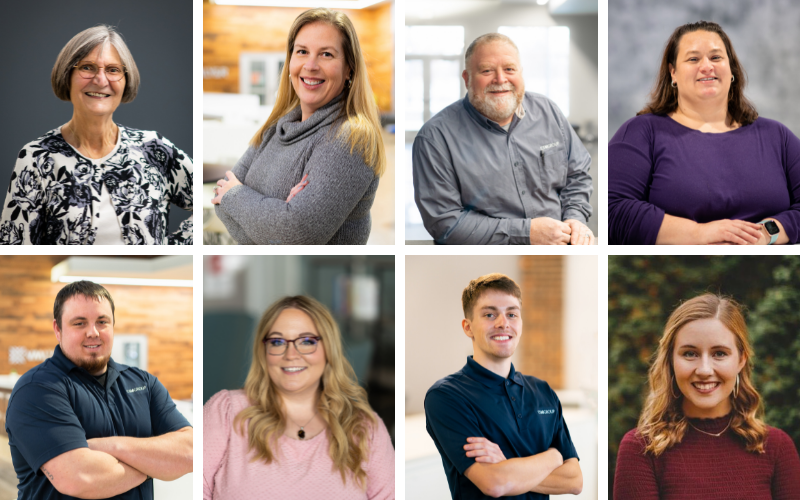 (top row, left to right)
Bettesue Weniger - Project Scheduler
Bettesue has over 20 years of experience in project controls and scheduling and is skilled in developing and implementing master schedules for clients in various industries. She is currently supporting all scheduling needs associated with a Fortune 500 pharmaceutical client in Southwest Michigan.
Angelia Harris - Project Financial Controller
Angelia also comes to CSM Group with more than 20 years of experience in management and document control and coordination. Her technical knowledge in managing project costs, along with her educational background in finance, is an asset to CSM Group's project coordination team.
Leo Kortz - Construction Engineer
Leo has quite an impressive 30-plus year career. He has supported projects for many Fortune 500 companies, including Ferrero, Post, Welch's, Nestle, and Purina, and has extensive experience in project management and supervising structural steel erection. He is currently supporting projects for a Fortune 500 pharmaceutical client in Southwest Michigan.
Shannon Lumetta - Accounting Coordinator
Shannon comes to CSM Group with more than 20 years of experience in various accounting roles. Her technical expertise lies in payroll, financial reporting, accounts receivable and payable, and cash management. Her meticulous attention to detail is a valuable asset to our accounting department.
(bottom row, left to right)
Jake Kendall - Project Engineer
With more than ten years in construction management and building services and maintenance, Jake joins our team as a project engineer. With his experience as a foreman, carpenter, and laborer, he is working closely with our project managers in our Building Services division.
Hannah Penar-Graham - Project Coordinator
Hannah joins the Pfizer team as a project coordinator with an eye for intricate details. Before joining CSM Group, she spent six years as a physician practice coordinator at Borgess Ascension Hospital Immediate Care. She provided management and supervision of all front desk and administrative staff, ensured proper work conditions for employees and patients, and enforced HIPPA regulations.
Jim Werner - Project Field Intern
Jim is a current student at Western Michigan University, pursuing bachelor's degrees in business administration and engineering. He is an aspiring project manager with 15 months of field experience and joins our team as a project field intern. In this role, he is completing a rotation with our project financial coordinators until May, when he will join our internship program full-time.
Emily Langley - Talent Acquisition Specialist
Emily joins our HR team as a talent acquisition specialist to support our continued growth. During her career, she has created and managed full-cycle recruitment strategies to find talent, built multi-part hiring processes for interns, co-authored internship curriculum, and hosted leader think tank events to sharpen internship program offerings.